Ever since the release of Native Instruments Maschine+ as a standalone version of their long time software based successor Maschine, it got quite some bad reviews of people comparing a bit too much to the powerful possibilities they have on their high spec laptops. But personally I think it's much more adequate to compare it to what's there on the standalone sampler/groovebox market, most of all the legacy of Akai MPCs. And that's still a very tough choice to make but I guess one you already took, right? 
So for Maschine+ as a standalone unit, one of the most underestimated but incredible features is the possibility to build your own instruments, effects and tools (with NI's Reaktor) and load them into your unit. Some reviewers saw this potential early on but it got a little swept under the carpet, because while the unit came with some classic Reaktor Ensembles embedded into the main library it wasn't… and still isn't an easy, straight forward process to get our own selection of Reaktor Ensembles into the Maschine. In early fimrware versions it also wasn't very stable and on my Maschine, Reaktor instances always stopped producing sound after a certain amount of time. Since these issues got fixed after a while, the documentation on how to convert your Reaktor stuff for Maschine+ didn't.
Let's change that, shall we?!
The whole process to get your Reaktor Ensembles working in Maschine+ still is a little bit fiddly, but once you went trough this procedure with a couple of your favorite Ensembles you get a hang of it. These will then sit tight on your device for ever and ever, waiting a few clicks a way for some action. They will be mapped out beautifully to your Maschine's controls and tagged to your personal preferences. And most of all, you will be able to share them, so that other Maschine users only have to load the Ensemble file into their unit and have it working just as nice as it does on your's. So while this process may be a bit complicated for unexperienced users, I do have high hopes that it encourages others to convert their Reaktor stuff and share it on the Reaktor User Library.
In order to make this all work there are just a few things to take into consideration:
You need to have an Reaktor license working on your Maschine+ and your computer.
You need to have the Maschine software installed and set up on your computer.
Reaktor should be updated to the latest version on both devices (Reaktor 6 all the way).
Be sure to choose Reaktor Ensembles that do not heavily rely on a graphical interface to be controlled as these are most often not possible to be mapped to Maschine's encoders (and you will not get a graphical representation of your plugin on Maschine+)
There are quite a bunch of forum rumors about which well known Reaktor Ensembles are compatible and which aren't. In my experience it pretty much relies on Maschine+'s CPU, which likely will not be as forgiving as the one in your computer. That's really something you have to test out yourself in order to find the balance of which Ensembles work and which will bring your CPU to it's knees. It's also likely that some of Native Instruments own Reaktor creations will not work. These sometimes have some kind of copyright protection and would only work if NI themselfes officially port the serials to Maschine+. Last but not least keep in mind that you will load your Reaktor Ensembles as presets within Maschine's browser hirachy, not as self contained instruments or effects (as the plugin itself is always Reaktor). Because of that it's quite manageble to export instruments and effects in a default state to Maschine in form of a single preset each, while exporting whole preset libraries may be way more complex. But honestly I haven't really been diving into that rabbit hole as I mostly convert quite simple effect units and also prefer to start from scratch with them. And your Reaktor control states will always been saved within your project, of course, like any other plugin.
Once you went trough this whole process you will most likely not need to go trough this whole manual every time. But it can be very helpful to have a checklist on hand to double check all the steps, in case anyhing doesn't translate as well as expected. So I will start this tutorial with a list of steps of what we are about to do. (Don't forget to keep an eye on that fancy little + sign! In order to keep this tutorial at least a tiny bit tight, I will always refer to "Maschine" as the computer software and "Maschine+" as the standalone software):
Load your Reaktor Ensemble into a blank instance of a Reaktor plugin within Maschine

Select the propper "Master Ensemble" in Reaktor

Create a Preset in Reaktor and select the propper Meta Info

Sort and Compress Parameter IDs in Reaktor

Save the Ensemble within Reaktor

Map out the device to Maschine's controls

Save the preset within Maschine

Tag the preset within Maschine's Browser

Reload the tagged preset into Maschine

Overwrite the created preset within Reaktor

Overwrite/Resave the Ensemble from within Reaktor

Export the Ensemble file to Maschine+
LET'S DO IT!!! 😀
Load your Reaktor Ensemble into a blank instance of a Reaktor plugin within Maschine
Within Maschine software you have to start by loading a blank instance of Reaktor, either as a Instrument or FX version. You can easily do this via the dropdown menu right next to Maschine's plugin slots where all of NI's native plugins such as FM8, Massive or Reaktor are listed.
In Reaktor's start page go for the "Create Patch" option which will give you a blank Reaktor patch.
Now go and load your desired Reaktor Ensemble from Reaktor's device browser.
Select the propper "Master Ensemble" in Reaktor
 On the left hand menu box in Reaktor go to [Properties] and then [Function].
Now look out for the dropdown Menu [Select Master] and choose the Instrument or FX as your Master.
This may be already set up correctly but also may have the Ensemble file itself choosen.
Your Ensemble can also cointain several "Instruments" in which case you simply choose one of them as the Master.
Create a Preset in Reaktor and select the propper Meta Info
Within Reaktor you shall now go into it's Preset Browser.
Make sure to use the Preset Browser of your previously selected Master.
Right click into the Browser and select "Show NI Meta Info"
Now create a preset and name it the way it shall appear in your Maschine browser later on. (Most likely the name of the instrument/FX itself)
Remember that we are not mapping out a collection of Presets here but the default state of an Ensemble which will appear in form of a preset in Maschine's browser.
Now right click on the preset, select "NI Meta Info" and choose weather it's an Instrument or Effect. This will decide in which preset browser section of Maschine it will show up later and also if it will be loaded into an Instrument or FX version of the Reaktor plugin.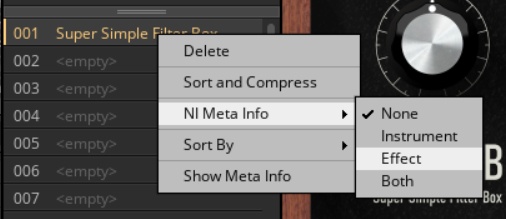 Sort and Compress Parameter IDs in Reaktor
In Reaktor open the [Connect] tab and scroll all the way down where it says "Automation".
Open the dropdown menu [ID Actions] and select [Sort and Compress IDs].
If the Base ID of your Ensemble is anything above zero, also choose [Instrument Up] until it sits on top.
This should clean up and assign all the controls (knobs, faders and buttons) to the standard plugin parameter IDs, so that Maschine (or any other DAW) can read them out correctly.
Keep in mind that there are a number of graphical controls in Reaktor that can not be assigned to Parameter IDs.
Still, if you are missing a parameter later on you can come back here, select the desired parameter and check if it's maybe disabled for automation. Most often you should be able to enable it.
Save the Ensemble within Reaktor
Go into Reaktor's File Menu on the top left and save the Ensemble as you would save a file in any other software.
Make sure to save it into Reaktor's User Library which should be set up correctly within Maschine's Library folders in order for Maschine to find it.
I'd suggest you create a subfolder for Ensembles ready for Maschine+ in order to keep things nice and seperated. But decide for yourself!
Map out the device to Maschine's controls
Back in Maschine go into the Device Mapping Mode (also used to map out any other VST/AU plugin) and delete all the default pages.
Now create a fresh page and set Maschine into "Learn" Mode.
You can now map all the controls as you desire by shaking them a bit in Reaktor first until they get "learned" in Maschine.
If parameter names look clumsy you can rename them in Maschine, of course.

Save the preset within Maschine
You now have to save the mapped out preset from within Maschine (not Reaktor) in order to be able to make it visible for Maschine software.
In order to do so, right click into the device slot, next to the controls, scroll all the way down and select "Save As…".
Name it the same way you already named it in Reaktor.
It should now appear in your Maschine Browser, either as an instrument or effect preset.
If it doesn't appear, go back to Reaktor's preset saving procedure and double check naming and Meta Info. If that doesn't help check your Maschine Library settings and make sure that all of the previously used computer folders are included into Maschine's (User)Library.
Tag the preset within Maschine's Browser
If it does successfully appear in your Maschine Browser you can try to load it from there now and double check if it loads correctly and if all controls stay intact.
If it's all good, you can go and tag the preset to your workflow.
I personally always save a default version of all my plugins (VSTs) and always tag them with "Init Instruments" or "Init Effects" first with sublevel tags like "Filter", "Synth", "Granular" or whatever.
Of course you can also choose to not tag them at all (In which case I will tag you as "layabout" 😉 ).
Reload the tagged preset into Maschine
When you're done with the whole tagging magic you now have to reload it into one of Maschine's plugin slots again.
I would always suggest to clean up / unload previous versions of your prepared plugin as you move along.
Overwrite the created preset within Reaktor
Well… Back-To-The-Future-Style you now have to go back into the Reaktor interface of your reloaded instance and save both, the preset and the file once again.
So first go into Reaktors preset browser, look out for the previously created preset and overwrite it.
Double check that the NI Meta Info stays intact.
Overwrite/Resave the Ensemble from within Reaktor
Last but not least go into Reaktors File Menu and save/overwrite the previously created Ensemble file…again.
This whole "again" process will save all the assigned control and tag information to the preset in Reaktor and finally save the preset into the file.
Export the Ensemble file to Maschine+
And last but…yeah really last, go and find that file you just created and copy it into the propper user folder on your Maschine+: […/Native Instruments/User Content/Reaktor/Ensembles]
You should now be able to find, load and mangle this little Reaktor thingy on your Maschine+ with endless joy 😀 (unless it unforgivingly kills your CPU).
MAGIC!